Description
Step Up Your Production Game Without Going Bankrupt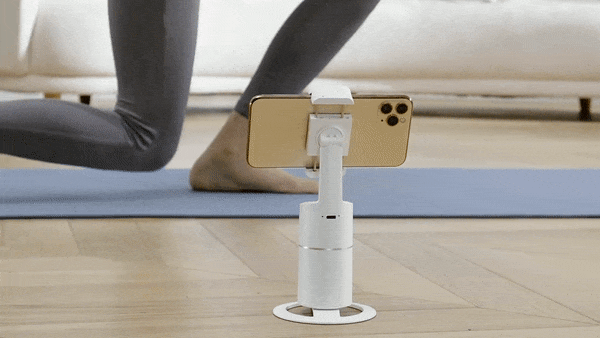 The 360° Face & Object Auto-Tracking Phone Mount will rotate 360° horizontally for easy real-time recording without the hassle of having to constantly re-adjust your tripod,  Go hands-free to video calling and live streaming.

Features
✔️ Sleek design: compact size easy to carry around Available in White, Black & Pink Color.
✔️ No App or Bluetooth connection required the device has a smart built-in megapixel camera that can rotate and follow body movement intelligently.
✔️ Auto Face & Object Recognition: All it takes is a couple of seconds to register your beautiful face and voilá! Your new 360° phone mount will follow you around whether you're creating videos, or just watching them!


✔️ lasting 8 hours: on one charge this device has a built-in 2200mAh rechargeable Lithium battery and comes with a USB type C cord.
✔️ Easy to use: only has one button. after charging the device press and hold the button for 3 seconds blue light will blink and the device will turn On no need to hook anything to your phone. work with any phone since there's no need to download any App.
✔️ Versatile Mounting Capabilities: removable base with a 1/4' Screw thread allows you to mount to most of the tripod and adjust easily for different angles shoot.
✔️ Ergonomic Matte Material: Manufactured from high-quality matte material to give you the sleekest look, and the most comfortable feel.
Product Specifications 
360 follow-Up
8H battery life rechargeable             
No App required
Vertical Horizontal flip
Silicon Pad
Removable base with 1/4' Screw thread 
Size :  7.7 "H x 2.25"                       
 Rotation angel: 360°
Base Size :  4 "                                 
Flip angel : X : 360° /Y 315

°

Overall Weight :  8 Oz                   
Stroke : MAX :8.2/MIN : 5
Capacitance : 2200MHa                     
Use time : 6-8 H
Rotation Speed  :  42

°/S                     

Charging port : Type C

Power : 5V1A
Package Includes
1x 360° Auto-Rotating Panoramic Phone Mount

1x Micro USB Charging Cable
Payment & Security
Your payment information is processed securely. We do not store credit card details nor have access to your credit card information.