Kebap Master Vertical Grill
Description:
With Spinning Grillers, you can make Chicken Shawarma, Turkey Shawarma, Beef Shawarma, Lamb Shawarma, Gyros, Doner Kabob and Tacos al Pastor. Grill is made from high quality Stainless Steel with two burners. The Burners were engineered to sear the meat perfectly, crispy on the outside while keeping the meat juicy on the inside.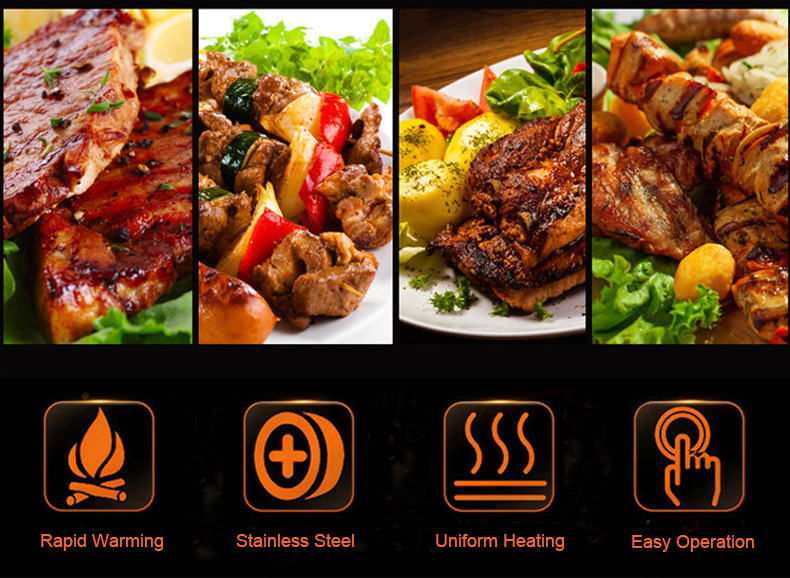 Specification:
Model: BS-25A

Power: 2KW
Material: Stainless Steel
Heating Method: LPG
Fuel Type: Electric
Item Dimension: 295×265×480mm(11.6×10.4×13.8in)
Package Weight: 26kg
Feature:
- All-round broiling: 306° infrared rotating barbecue, the baking of each piece of meat is even and tasty.
- Mesh heating plate: Makes the flame more uniform. The use of gas is more energy-saving and environmentally friendly than electric baking.
- Independent control switch: Easy to operate, more scientific and safe.
- Independent oil pan: Effectively prevents oil and water from splashing, making the barbecue environment clean and hygienic.
- High-quality stainless steel cooling holes: Helps quickly heat up.
- Distance adjustment lever: It can control the distance of the barbecue
Advantages:
- Central rod that circle is electric and automatic.
- Smooth Stainless Steel Construction. Various Sizes of Burners. Choose your Size
- Complete with The Main Vertical Rotisserie Skewer & Thermocouple Gas Safety.
- Four Burners Engineered to Provide a Crispy Outside.
- Easy to Clean. Propane Gas.
Attention:
- Pay attention to whether the gas interface is connected
- Turn off the gas after use to avoid gas leakage
Package include:
1 x Grill Machine